COVID-19 crisis: 5 states that are deteriorating rapidly
About a week ago, I wrote an article on "Prepare for the COVID-19 Delta Wave Outside of Klang Valley" to highlight the deteriorating situation in some states. This article is to share the realities and the crisis that is already upon us.
Situational analysis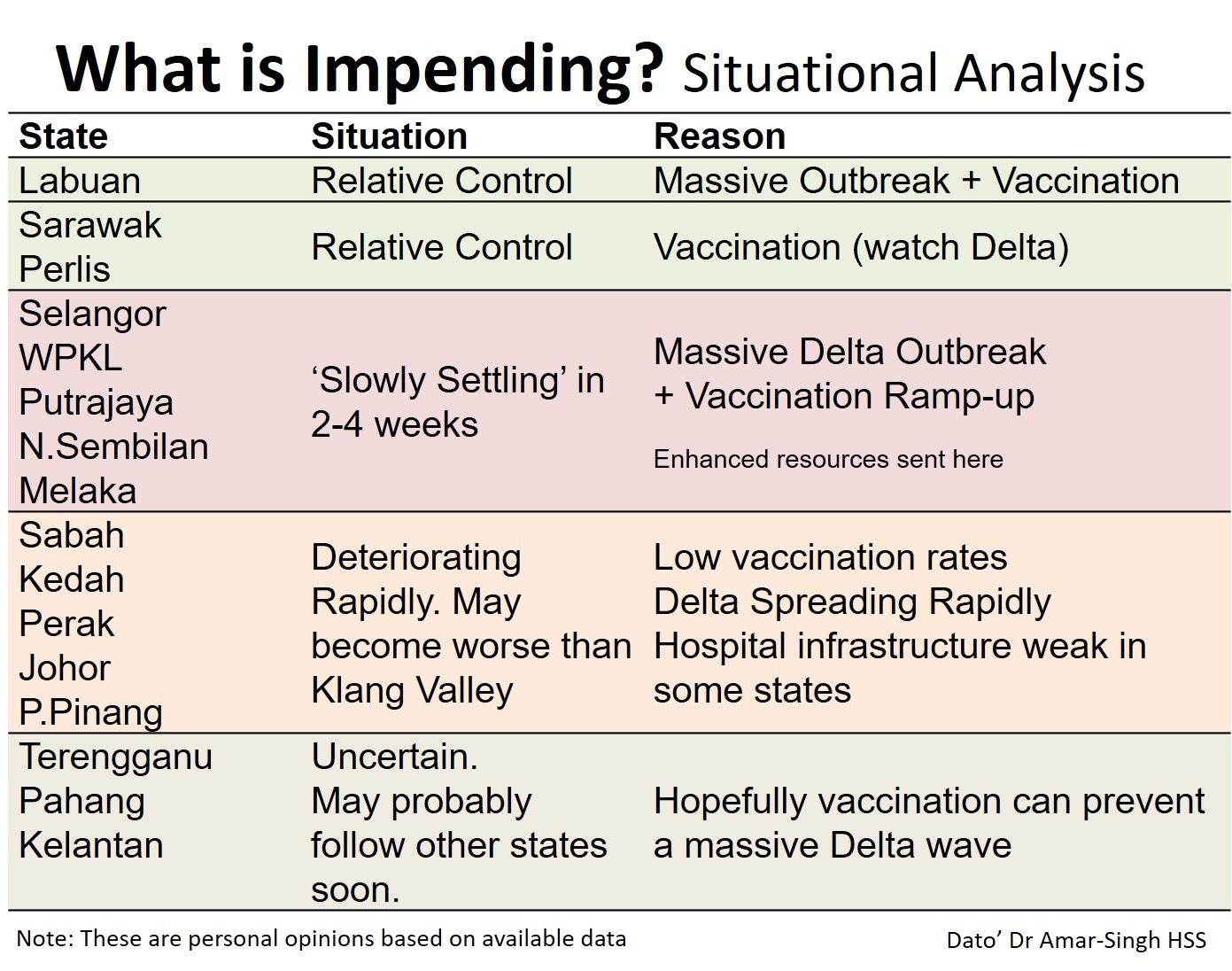 The graphic above shows a situational analysis of what is potentially imminent for different states. The crisis situation in the Grand Klang Valley (Selangor, WPKL, Putrajaya and Negeri Sembilan) is likely to set in slowly over the next 2-4 weeks due to the huge outbreak of Delta, the massive ramp-up of immunization and increased resources (government and civil society).
However, the total number in the country and even the deaths might not go down as the Delta wave hits other states hard, especially Sabah, Kedah, Perak, Johor and Pulau Pinang. These states are deteriorating rapidly and could become worse than Klang Valley as they have low vaccination rates (due to low vaccine supply) and some have poor hospital infrastructure (especially Sabah). All of these states have second-dose (completed) vaccination rates below 20%.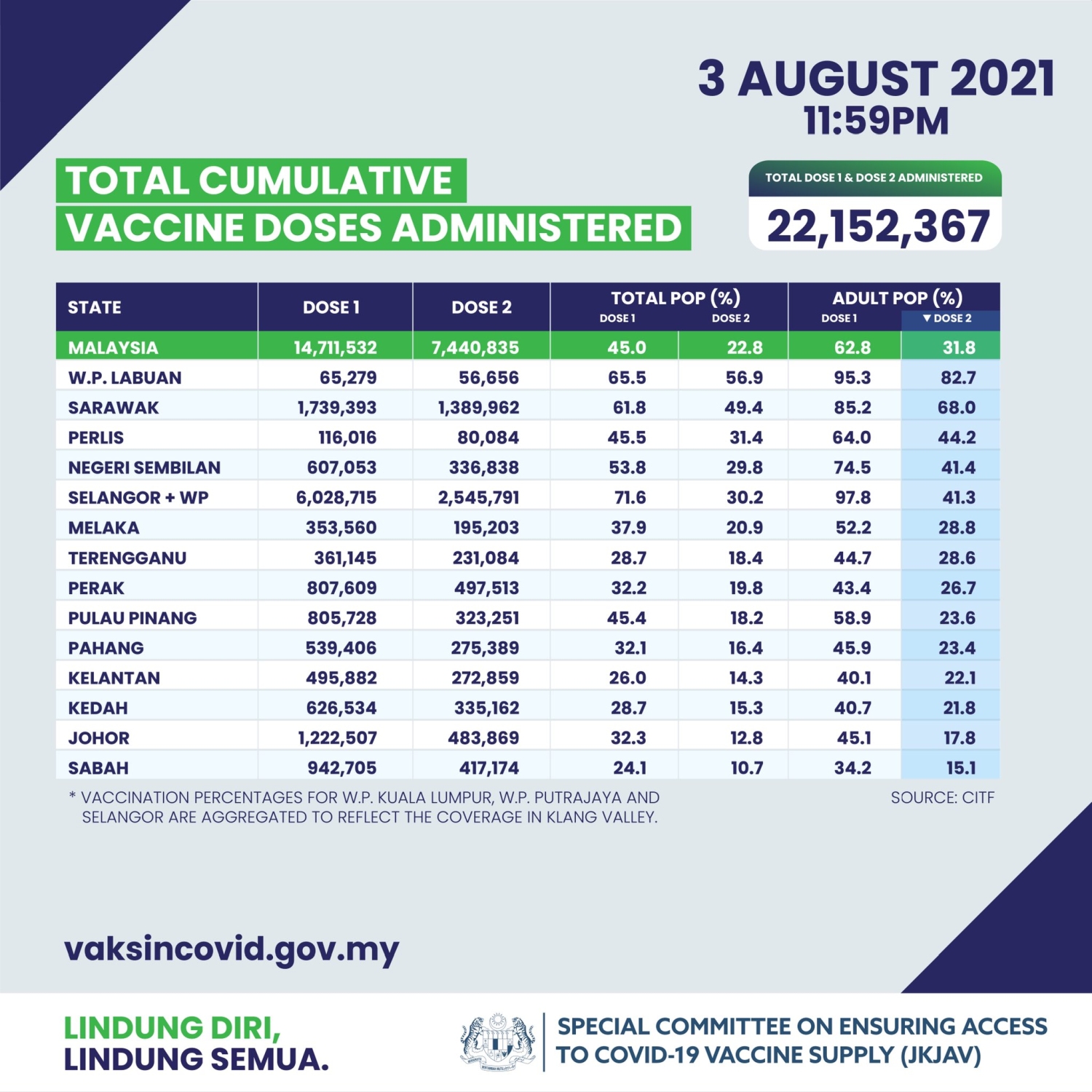 The table below shows the use of COVID-19 intensive care beds for these 5 states. It is important that we examine this data to understand the realities:
The ICU bed utilization trend for July is on a steep upward trend.
Almost all of them have exceeded their official number of intensive care beds. These are the original intensive care beds they had and are of a much higher quality than the reused intensive care beds.
Kedah and Perak have exceeded the total number of intensive care beds (original and converted beds) and are in the midst of a crisis.
Sabah may "look" better, but the total number of Sabah hospital admissions for COVID-19 reached last year's crisis figures. Public hospitals are struggling to cope.
Remember that these figures do not take into account patients who should be in intensive care beds (category 4 and 5) but who are cared for in emergency departments (victims) and quarantine centers. Kedah also has a high number of deceased patients.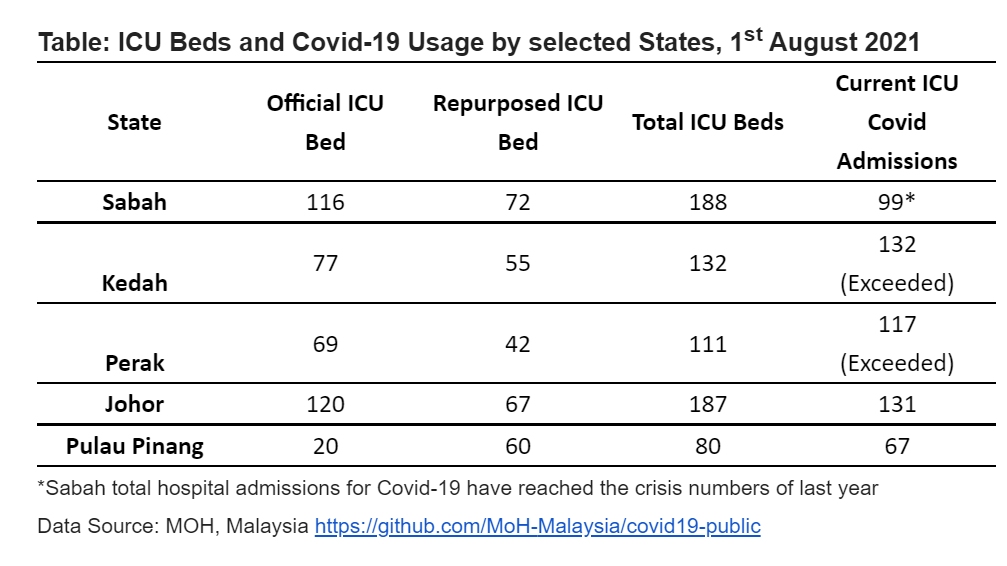 We can never be prepared enough for Delta
We need a society-wide approach to dealing with the crisis as it worsens. I would like to make some suggestions for health care, state governments, corporations, civil society, and the general public. More details can be found in the "Health Emergency Action Plan: Roadmap for COVID-19 Recovery" we wrote recently (downloadable link: https://bit.ly/2UeDRV1).
1. True sharing of reality-based situation data by state health services
It is vital that the public in every state of crisis (Sabah, Kedah, Perak, Johor and Pulau Pinang) be aware of the full reality. Time to "don't worry, everything is fine" or "we are in control" or "we prepared for this crisis"Is passed, these statements have no value. Delta does not respect or care about these attempts to "not alarm" the public. We can never be prepared enough for Delta and the Klang Valley, with all its resources, clearly shows this. State health services must have daily crisis sharing with the public (media, Facebook, other online outlets). Trust is crucial to fighting the pandemic and it is based on transparency.
2. State-level disaster management teams led by state health directors, fully supported by state governments and with strong liaison with business and civil society (NGOs)
Those of us outside of the Klang Valley know that no help is coming for our states. The federal government has limited funds, having invested significant resources to support the Klang Valley. Therefore, we need to work closely with wealthy business leaders and NGOs to increase resources and services. We need strong and decisive leadership, not individuals in public administration seeking to profit financially from the crisis.
3. Don't put all of our eggs in the vaccine basket
As we advocate for an increased vaccine supply and scale up vaccination, we should not put our hopes in this measure alone; we need to use good public health measures, as the World Health Organization has told us time and time again. Containment is not the solution. Proper use of the mask, avoiding unnecessary social interaction, effective contact tracing, use of RTK-Ag test for confirmation, etc. Continued use of large PPV centers is a risk of transmission of COVID-19. We should fully shift to the use of maternal and child health clinics, school health teams, general practitioners, private hospitals and outreach teams.
What can legal entities, civil society (NGOs) and the public do to support their states?
1. Purchase and donation of equipment to hospitals and quarantine centers
Legal entities, NGOs and the public should communicate directly with individual specialists and medical offerings to know the real needs on the ground while protecting their identity. They will better inform you about the items they need and where to get them.
a. Important items for managing patients include: oxygen concentrators, oxygen reservoirs, oxygen regulators, infusion pumps (for delivering medications), portable suction machines, vital signs monitors portable, blood pressure monitoring sets, ECG machines, stretchers, canvas beds, etc.
b. Support the personal protective equipment (PPE) of healthcare workers that is used extensively, including: N95 masks, air-purifying respirators (PAPRs), isolation gowns, face shields or goggles protection, gloves, disposable caps, shoes, etc.
vs. Provide MDA approved RTK-Ag saliva test kits to enable health workers to speed up and increase testing of all contacts in the clusters and the community.
D. Consider offering reliable emergency transport services, as the health department's ambulance services will be overwhelmed. This can help reduce the number of reported deaths.
e. Increase the capacity of intensive care units by creating new intensive care units – this requires large companies to quickly finance and build (within 2 to 4 weeks) specially designed intensive care facilities (with intensive care units) in the main hospitals.
2. Support positive people and contacts
People found positive or who are contacts of positives should be isolated at home or admitted to quarantine facilities. People isolated at home will need support, including:
a. Reliable finger pulse oximeters for monitoring.
b. Medical support for surveillance (daily video calls from healthcare professionals).
vs. Some may require practical meal support.
D. Support for RTK-Ag saliva tests for those who are contacts (symptomatic or asymptomatic). We should also fund them so that the public can self-assess.
e. Quarantine facilities managed for this purpose for those who do not have houses or accommodation suitable for home isolation (overcrowded houses, limited space, migrants, etc.). This would mean using hostels and hotels to house them (good ventilation and no central air conditioning; private rooms with toilets).
3. Support communities hard hit economically by the pandemic
A significant portion of our audience grapples with daily needs and we must support them. While government agencies do some of this work, many "fall through the cracks" and receive minimal support. Some mechanisms for doing this are:
a. Collaborate with trusted local NGOs and relief organizations that deliver food to the poor and set up and maintain food banks.
b. Breadwinner – adopt poorer families for 6 to 12 months and donate a fixed monthly amount of money to help with groceries and utility bills.
vs. Give out food stamps that can be redeemed at various stores / convenience stores for groceries.
D. Hire people who have lost their jobs to work as volunteers to support others.
e. Also remember that we need to support families traumatized by COVID-19, who have lost loved ones, lost their jobs, etc. and find it difficult to cope emotionally. This includes children who are either temporary (both parents are hospitalized) or permanent orphans.
I call on the governments of the states of Sabah, Kedah, Perak, Johor and Pulau Pinang to be transparent so that broad and comprehensive emergency measures can be taken by all of society to address the current crisis. . There are mothers and fathers, sisters and brothers who must be saved in the weeks to come. Please don't wait until we reach Klang Valley Crisis Status.
This opinion piece was written by Dato 'Dr Amar-Singh HSS, senior consultant pediatrician. If you have an article or opinion that you would like to contribute for the benefit of all, share it with us here.
[ IMAGE SOURCE ]